A smokey makeup look is always a perfect choice to get into an autumn mood. But we should take it slow… we don't need to use super dark colours yet. So we choose to make a colourful Autumn Smokey!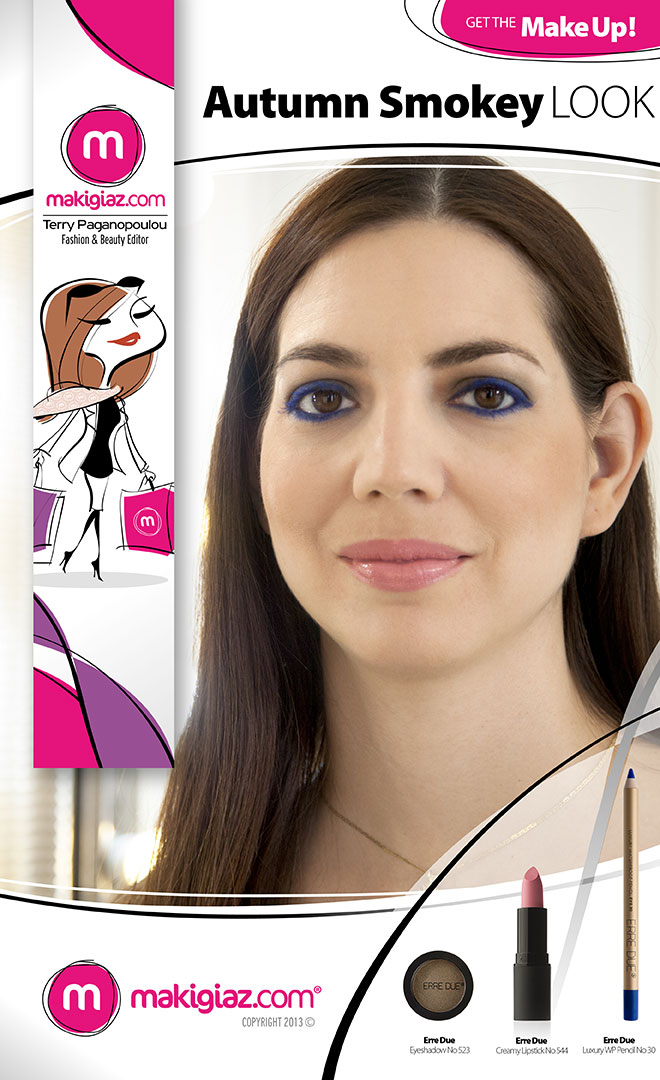 ---
Credits
Photography by : YourPhotoPros.gr
MakeUp : MakigiazCom
Model : Terry Paganopoulou
---
For this Autumn Smokey Look we have used a dark brown shade  as an eyeshadow and a strong blue lining. As the eyes are staring at this look we go with soft and bright shades of pink for the lips.
Makigiaz Com will lead you step by step on creating this look.


Autumn Smokey Look
Step 1 
Apply the dark brown eyeshadow twice all over the lid so that the colour will be more strong.
Erre Due Eyeshadow No523
Step 2
Soften the edges with a blending brush using the same eyeshadow.
Step 3
Do the lining of the upper and bottom lash line with the blue eye pencil.
Erre Due Luxury Waterproof Pencil No30
Step 4
Put plenty of mascara in the blue colour so that it will match the lining of the eye and have a more vivid outcome.
Erre Due Volumizing Waterproof Mascara No2 Electric Blue
Step 5
As we mentioned earlier we use a soft and bright pink shade of pink for lipstick.
Erre Due Cream Lipstick No544